How to change my password ?
How to change my password ?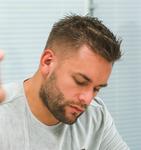 Updated by Cédric Compagnon
It's possible to change your password:
Click on your name then "My account" in the control panel above on the right side:

Click on "Password" in the browsing at the left side
Enter your new password in the field :

The password must be composed at least of 6 characters (maximum 20), in "Basic" password politic.
For AlarmTILT Enterprise, "Advanced" password politic is applied, password must be composed by at least:
8 characters
1 special character (@#$%...)
1 number (123...)
1 alphabetic character in capital letter (ABC...)
1 alphabetic character in small letter (abc...)
Passwords are historized and it's not possible to use a password that has been used in the past.
For security reasons, when a user change his password, the system remember the 4 last passwords. If a user want to recover his first password, he will be obliged to connect himself with 4 different passwords before.